Hospitality counts in this sensitively redone home by Home Studios.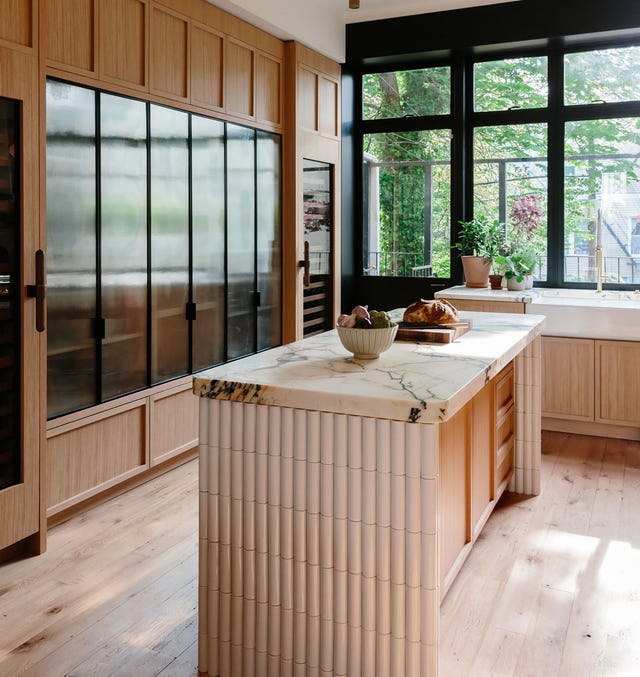 If you've lived in Brooklyn long enough, chances are you've been in a space designed by Home Studios without even realizing it—likely because you're having such a damn good time. Got a brain freeze after downing a minty piña colada along the curved bar at Donna? Check. Snacked on a cheeseboard at the Streamline Moderne–inspired Elsa? Yep. Waited for a brunch date beneath the gigantic clock at Sisters? You betcha.
This knack for creating spaces that facilitate both hijinks and high design has made Home Studios one of the go-to hospitality gurus in New York City this past decade. Though if you're feeling left out because you haven't been to any of the above haunts, never fear—the firm, helmed by fiction-editor-turned-designer Oliver Haslegrave, is expanding its purview to hotels and restaurants nationwide.
But recently, Haslegrave and his team have been trying a new type of building on for size—residential. And a freshly completed project for a family of four in Brooklyn's leafy Fort Greene neighborhood exudes all of the character, material play, and fastidiousness their cocktail lounges and eateries are known for—minus the shenanigans, of course. "Drunk people at 3 a.m. have a different [aesthetic] viewpoint," Haslegrave jokes.
Even still, Home Studios needed to draw from lessons culled from the food-and-beverage universe: These clients also work in the hospitality industry and wanted to keep cooking and entertaining at the heart of their new abode.
The house in question, a classic 1901 townhouse, had undergone a series of lackluster renovations over its lifetime, and much of its turn-of-the-century details were long gone. "We weren't trying to do a preservation project, because there wasn't even a whole lot to preserve," Haslegrave explains. This freed the Home Studios designers to create something utterly new—to spectacular effect.
DINING ROOM
After stepping into the building through a pair of arched double doors and kicking off your shoes in the vestibule, you enter the townhouse's spacious, light-filled parlor level, in which a sitting area, dining room, and kitchen flow seamlessly together. "We wanted it to have an expansive quality," Haslegrave says. "We didn't want it to feel like you were in different rooms."
The dining area is where you get a first taste of Home Studio's ability to create spaces where you want to sit and stay awhile, due to the designers' effortless approach to mixing furnishings and objects, as well as their keen eye for architectural details. A Giacometti-inspired chandelier by Australian lighting designer Anna Charlesworth floats above a vintage dining table that can expand to accommodate lively dinner parties—a must for a family that loves entertaining. Pale walls, painted in Farrow & Ball's Pointing, and reclaimed oak flooring offset darker elements, like the vintage credenza and an intriguing "puzzle painting" by BDDW's Tyler Hays. "We wanted a serene but strong feeling in the space," Haslegrave says.
POWDER ROOM
The call-and-collected feel of the dining room ends when you pull open a door—marked by a tactile ceramic knob—tucked discreetly beneath the main stair. Here you enter the parlor level's powder room, which is undoubtedly the home's Easter egg. The pint-size space features a riot of materials and patterns, from the honey-colored Giallo Siena marble sink base to the concrete basin to the custom Le Corbusier–inspired wall murals by artist Kimmy Quillin.
This tiny slice of unbridled exuberance will not surprise those who have used the loo in one of Home Studios' bars or restaurants: "We always love bathrooms because so often they get overlooked, and it's really the only moment where you're alone," Haslegrave says. "It's always fun to do something wild."
KITCHEN
The powder room might be a hidden gem, but the kitchen is the crown jewel of the house. Haslegrave and his team began by punching out the back wall and replacing it with floor-to-ceiling glazing, outlined in blackened steel. This move not only brings light into the rest of the floor, but also lends the cooking area a verdant alfresco feel. (Bonus: The setup enables hosts to pass dishes through the windows into the back garden.)
No detail was overlooked: The striking custom kitchen island features ridged white edges (inspired by Finnish modernist Alvar Aalto) and a deeply veined Paonazzo marble top. Wine fridges, appliances, and storage are all concealed with custom oak millwork. The oak-and-brass hardware was designed in-house. Even the vent hood blends seamlessly into the scheme via curved painted plaster and a blackened-steel band that creates visual harmony with the adjacent black mullions. Again, the hospitality world was top of mind: "We were thinking about it like a commercial kitchen," Haslegrave says of the exacting design process. "We had a lot of iterations and would move things six inches here or there."
"The proportion of the room and the glazing and the material—it all comes together," he continues. "You're like, This is where I would spend all my time."
MAIN BEDROOM
Upstairs, home to the sleeping quarters, the mood becomes decidedly more muted. "They wanted a very minimalist feel," Haslegrave says of the clients. The material palette might be pared back in comparison to the parlor level, but the designers amped up the architectural details. In the primary bedroom, for instance, they introduced quiet curves to the walls surrounding the doors and windows. "It really makes a difference to kind of have that softness," he says. "It just opens up the room."
The furniture, which includes a custom oak bed, is similarly spare, but a pop of color emanates from a pastel-colored landscape painting above the headboard by Austin, Texas–based artist Claire Oswalt. But even here, there are moments of cheek: A furry pink floor-length mirror, by Home Studios' furniture and lighting arm, Homework, is propped in a corner.
PRIMARY SUITE BATHROOM
The principal bedroom may be staid, but the main bathroom "is almost in the other direction—we have the mantel and an eclectic group of plants and ceramics," Haslegrave notes. Here, the designer could show off both his and the client's love of collectible design from another, smaller BDDW puzzle painting above the tub, a planter by ceramic artist Eny Lee Parker (the designer behind the powder room handle downstairs), and a terra-cotta stool by New York artist Chris Wolston.
In fact, all of the varied elements in the house, be it the furry mirror or the opulent kitchen island, work in concert to create a cohesive whole and facilitate the intricate choreography of family living. It also, perhaps, creates a bit of déjà vu for Home Studios: "It feels like, in a way, when you go into a restaurant," Haslegrave muses of the complete design. "Like something is going to happen there."
SEE MORE OF THIS FINELY TUNED BROOKLYN TOWNHOUSE